Dec
21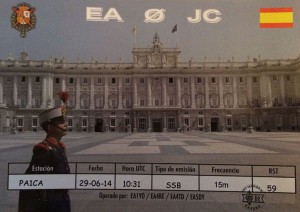 Some time ago I had a contact with the king of Spain and I wrote about this in my blog.
Now I got this short contact with him confirmed with a card!
A lot of radio amateurs will confirm their contacts with a QSO card. QSO is the short term for "contact" or "conversation", so this type of card is nothing else than a confirmation of a contact you had.
I sent him a card after we had the contact, and now he confirmed it with his card.
It's always nice to get confirmation with real, physical, paper cards. It makes the short talk you had a bit more real I think.
This one will hang on the wall for a while, between my other more interesting cards. After that it will go into my (extensive) collection of cards! 🙂