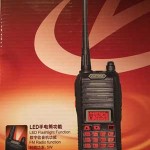 Lately I have been listening a lot to the most popular repeater here in the Netherlands (PI3UTR).
I need to travel for work and listening to this repeater is a nice distraction. I now and then also talk with people but most of the time I'm just listening.
Until a few weeks ago I took my handheld in and out of the car every time I went somewhere. This wasn't so comfortable for me so I decided to find a cheap handheld that I would be able to keep in the car.
People that know me will not be surprised that I started looking on the biggest Chinese site for this; AliExpress. Lately one of my favorite shopping sites. 🙂
After looking around a bit on the site I decided to buy a VHF only handheld. Most interesting repeaters for me are on the 2 meter band so UHF wasn't necessary.
A lot of these little handhelds are pretty cheap, around 25 euros (USD 27) but I found one even cheaper; only 16 euros (USD 17), including shipping! The handheld I bought is the Zastone ZT-Q5 which is also sold as the JingTong jt-988.

This price is not even close to any of the bigger brand handhelds available! For this money you can (maybe) only get the car charging cable for a Yaesu or ICOM handheld.
For the 16 euros you get the VHF handheld, an antenna and a table charger. All packed in a nice box with (English / Chinglish) manual. The handheld is 5 watt so good enough to open most repeaters around my work and home.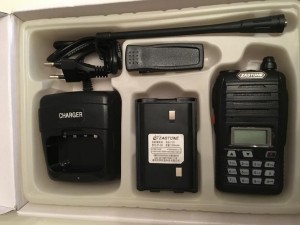 The (FREE) programming software you can find here and here. 🙂 The programming cable is a standard kenwood type cable (the one with 2 pins) that they also sell for a few euros / dollars on this website. The software is pretty bad (!) but good enough to get the job done.
After testing it a bit I find the handheld pretty ok for the price. It doesn't feel to breakable, and the display shows what I need to see, although it is a bit small compared to other handhelds.
The battery goes for a long time and charging goes pretty quick. I wasn't very impressed with the (rubber duck) antenna so I replaced this with one of my other old antennas.
All in all not a bad deal!
If you're interested in also getting one of those cheap handhelds, it pays to look around a bit on AliExpress (or other Chinese sites). They have some pretty good deals now and then.
After writing this blogpost I saw that the ZT-Q5 wasn't for sale anymore at the shop where I found it, but I found the BaoFeng UV-B6, which is a dual band (VHF/UHF) handheld, for only 18 euros (USD 19), also including shipping! So it pays to browse a bit on the site and find the best deals!
To get you started, here are a few links:
---